DSNI Cycling and Boccia in KS2
P.7 Record of Achievement 2019-2020
Attention Autism - Trains
Transport
Beep, Beep!!
Our Summer Term topic is "Transport"
What modes of transport do you know about?
Have you ever visited a bus station or a train station? Have you ever travelled on an aeroplane? If you have any photos of you using a mode of transport send them to your teacher, we would love to see them!
Keep an eye on our website and on seesaw for our up and coming teaching and activities on Transport.
Story Time
Relax and enjoy story time this week with Miss Beacom and Miss Slevin.
What's your favourite book?
Who's your favourite character?
If you can please send some pictures to your teachers of you enjoying story time with your family, we would love to see you all enjoying your favourite books.
Challenge - 'Insect Inn'
Hello everyone, I hope you are all keeping safe at home.
We have decided to give you all a very exciting challenge. Our sound this week is 'i' and we want you and your families to build a Inn for all of the insects in your garden. You can use any old scrap or recycling to build your Inn, make it as big or as small as you wish and be sure to use lots of leaves to make it nice and cosy for all of the insects. If you can please send pictures to your teachers and I will get them up on the website for everyone to see.
Looking forward to seeing what you all come up with, have fun!
Tyler's Rainbow 🌈
Well done Tyler, a lovely rainbow and a beautiful smile to go with it! 🌈🌟
Attention Autism 'St Patrick's Day'
We have a challenge, 'chase the rainbow'
Create a rainbow picture to display in your window so that you can go rainbow spotting when out walking with your family.
Home Learning
Here at Arvalee we are committed to the education of your child even in this difficult time of school closure. We aim to continue the high quality teaching and learning that your child avails of while in the school. As such we have created online resources in order to continue your childs' education.
Within in these areas your child will receive an engaging variety of work that will be assessed and returned to them with feedback.
Nursery, Key Stage 1 & 2, Mrs Mc Caughey's, Mrs Mc Elnea's and Miss Mc Elhatton's class
SeeSaw Login page
Log in using the details provided by your class teacher.
Key Stage 3,4 and Post 16
Microsoft Teams Login page
https://teams.microsoft.com/start Teams Password: arvaleeonline
Log in using your child's C2K user name and password provided by the school.
Key Stage 2 Assemblies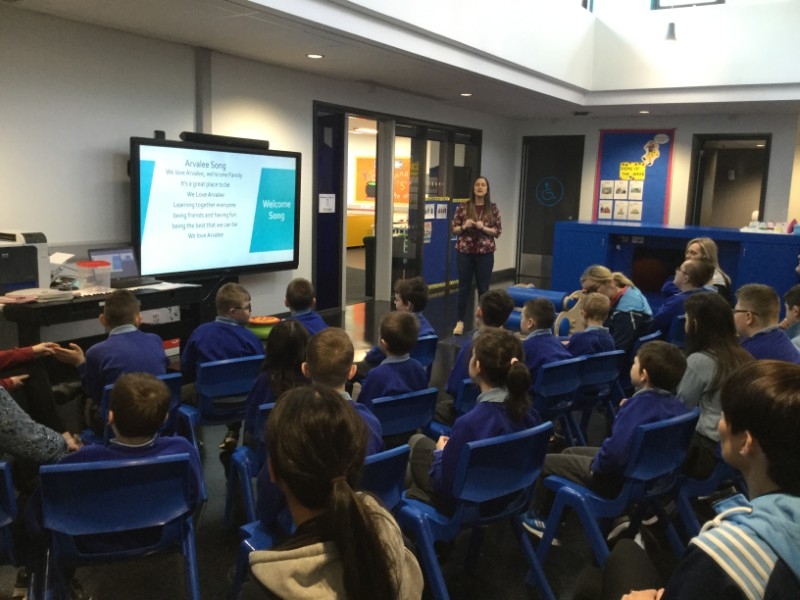 Planting a Rainbow Sensory Story
Goldilocks and The Three Bears
Easter Attention Autism 2
Arvalee School and Resource Centre, Strule Campus, Gortin Road, Omagh BT79 7DH Telephone: 028 822 55710